Drupa 2016
Lewald & Partner starts the Drupa Workflow Campaign 'It'll knock your socks off!'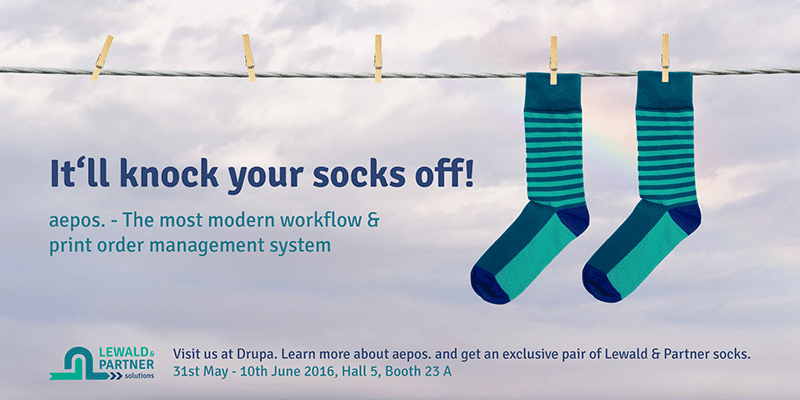 Lewald & Partner will present its workflow series aepos. on the Domino Printing Sciences Booth No A23 in Hall 5 at Drupa 2016, which is taking place at Messe Düsseldorf from May 31st to June 10th 2016. The motto will be 'It'll knock your socks off!'

Garbsen, 15th April, 2016. Lewald & Partner will put its workflow series aepos. with the slogan 'It'll knock your socks off!' in the centre of attention at this year's Drupa.

aepos. is one of the most modern workflow- and print order management systems available. It was developed for the digital processing, publishing and exchange of PDF-printing data in the prepress stage. The special characteristic is that it can control work processes in two different ways:
Data-based work process (classic using Hotfolder)

Order-based work process (job ticket/JDF, specific process chains)
aepos. supports companies in keeping up with a printing and media industry with intense competition and price pressure where more and more complete orders with shorter and shorter lead times predominate. Large defective production runs are not uncommon in this field and often cause companies to work unprofitably. aepos. meets you where deficits already exist, remedies them and provides new approaches for optimising productivity.

Jens Lewald, Technical Managing Director of Lewald & Partner, has the following to say about participating in the Drupa:

"My team and I are very pleased to give visitors to the Drupa the opportunity to test both the basic configuration aepos.Basic and aepos.Digital and aepos.Commercial live with all of their functions and process chains and play through various possible jobs. It's really going to knock the socks off of visitors to the Drupa. But we're prepared for that: All interested parties get an exclusive pair of Lewald & Partner socks as our little gimmick," says Lewald with a grin.